The Mike Moats Macro Light Control Kit includes a 24-inch Wimberly™ Plamp and two 14-inch Westcott™ Illuminator Reflector Panels – one is silver and white, and the other is a translucent white diffuser. It also includes the Finding Character in Nature ebook by Mike. I went out for a leisurely "test drive" on a lovely – and hot and humid – July morning.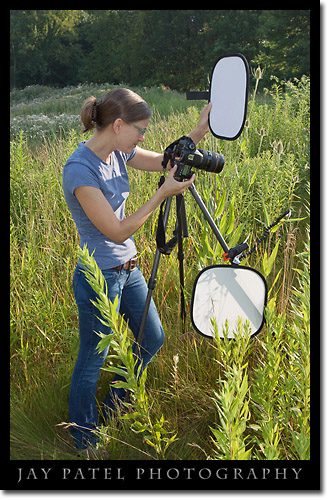 At first, I felt like I was carrying around too much equipment. Tripod and camera in one hand, plamp and filters in the other – useful or not, I had to find a way to carry everything more easily. So, I clamped the Plamp onto my tripod, and hung the reflector panels from it. Now, I could carry everything with one hand. Problem solved. I chose a small thistle, and got to work. Lucky for me, I had my trusty side-kick along to document the process – thanks for helping out, Jay!
First, I set up my tripod then put the Plamp to work positioning the chosen thistle just where I wanted it. I'll go into more detail about that fabulous little tool later – for now, indulge me while I go into some detail about controlling the light.